Computer-Room for Senior High School
9. October 2020
In February this year we received a request to support our local SHS (Senior High School) school. This is the type of school whose graduation enables access to universities – similar to the Abitur.
Through the school management, we were asked if Peelco could help to set up a computer lab. The problem was explained to us during a visit the following day: There is already a supplier for 36 computer terminals. However, these can only be delivered if there is a fully equipped computer lab.
The computer room still looked very sparse: no chairs, no tables, missing network structure and old paint on the walls. Another problem arose: The contract for the computer terminals could be transferred to another school if the infrastructure is not installed in the foreseeable future. This is a matter of urgency! A time-saving advantage was that other schools were also – due to COVID-19 – closed. A disadvantage for us: We cannot import materials in a time-consuming way and have to improvise with locally available material.
New paint was quickly applied to the walls and the remaining cable channels of our office installation. The tables were built by the maintenance team in our company under their own steam: The top is made of wood and a stable steel frame in the substructure. What was no longer in stock: computer switch and LAN sockets. So import after all?
In the final spurt, locally available stable chairs were procured (the colour of which is a matter of taste, however).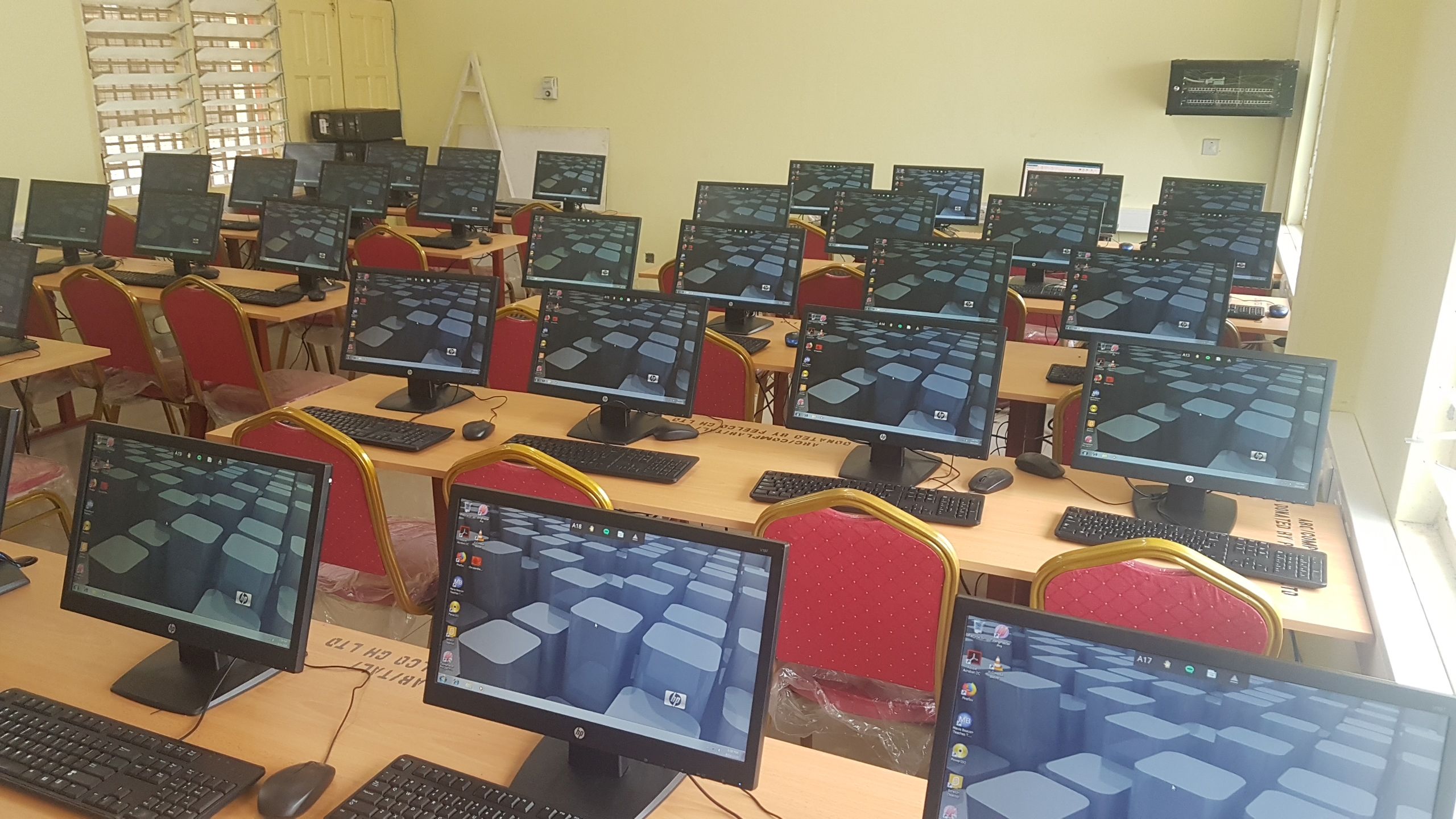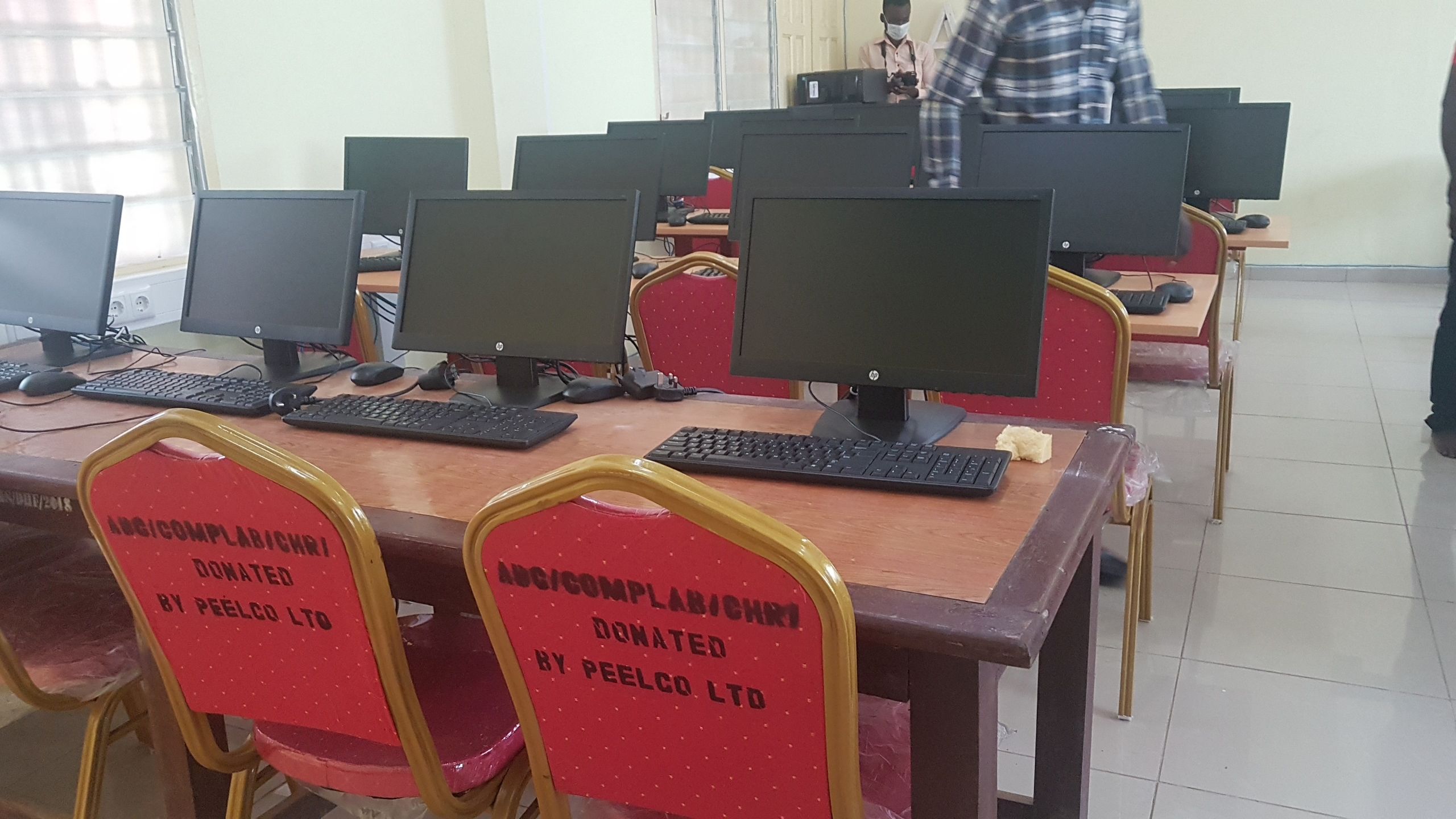 Pic 1 and 2: Computer room ready for handover
The room was then ready for use in time for the opening of the school for the graduating classes in June. The official handover took place last Friday, due to Corona.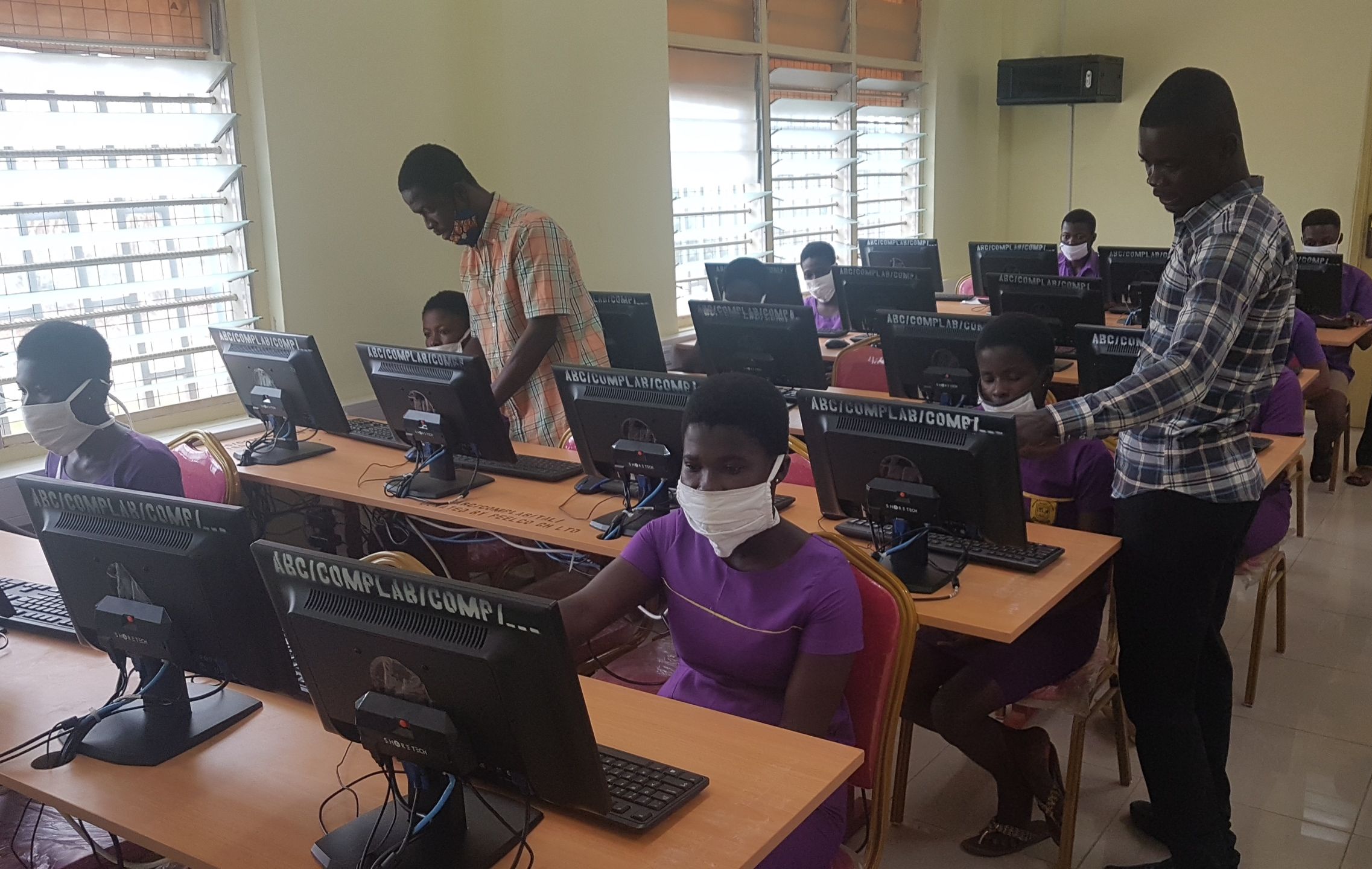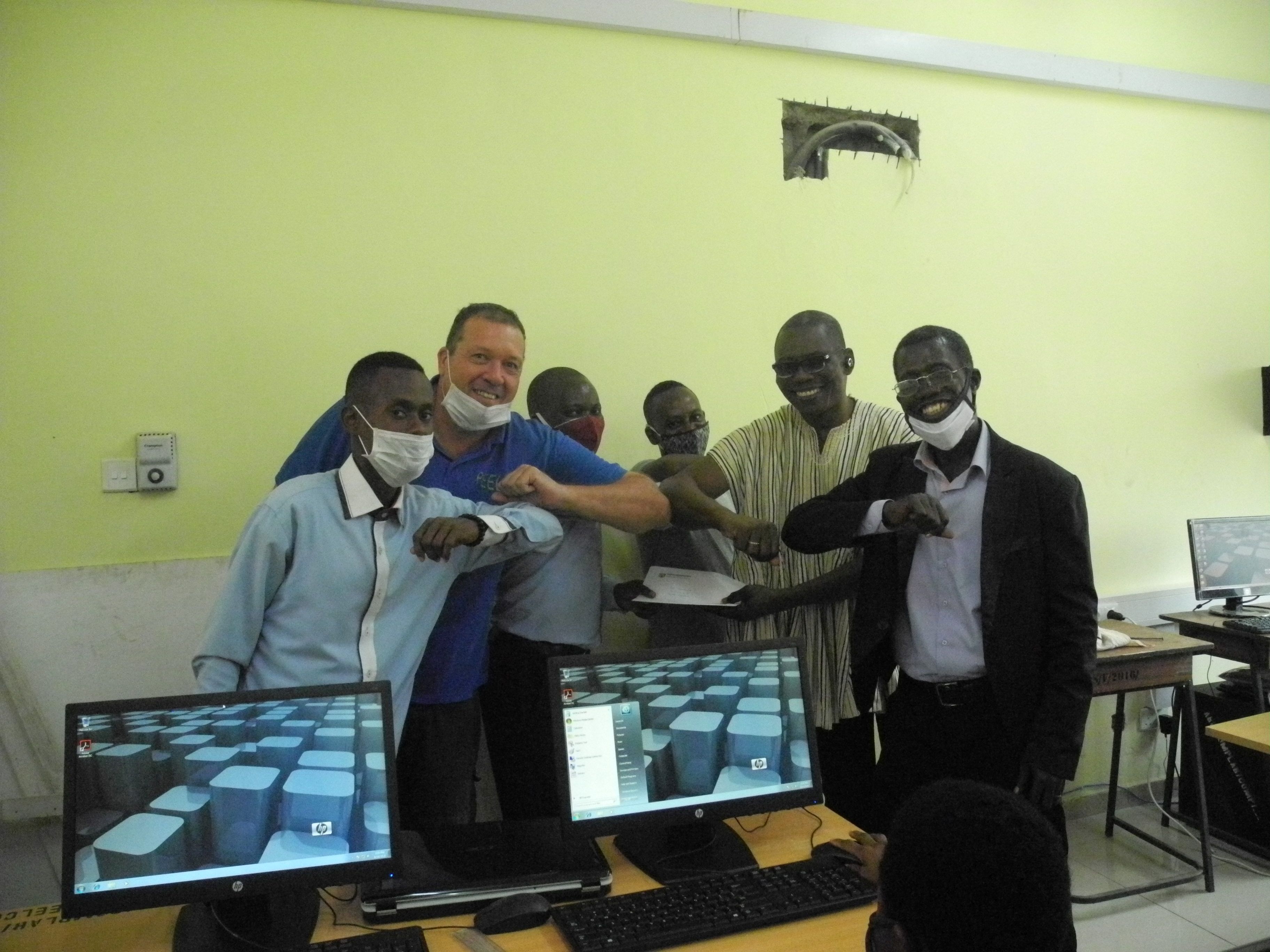 Pic 4: Corona hand-shake at the handover: Peelco team and school management
As part of the good cooperation, the school management and the management of Peelco have already planned further projects:
– Supporting the best students of the year in their further school or vocational training
– Company tours for interested pupils*
– Temporary employment of graduates over 17 years of age to bridge the registration deadlines at universities*
– Cooperation on other school projects and training on site by the quality manager of Peelco*
*after relaxation of COVID-19 measures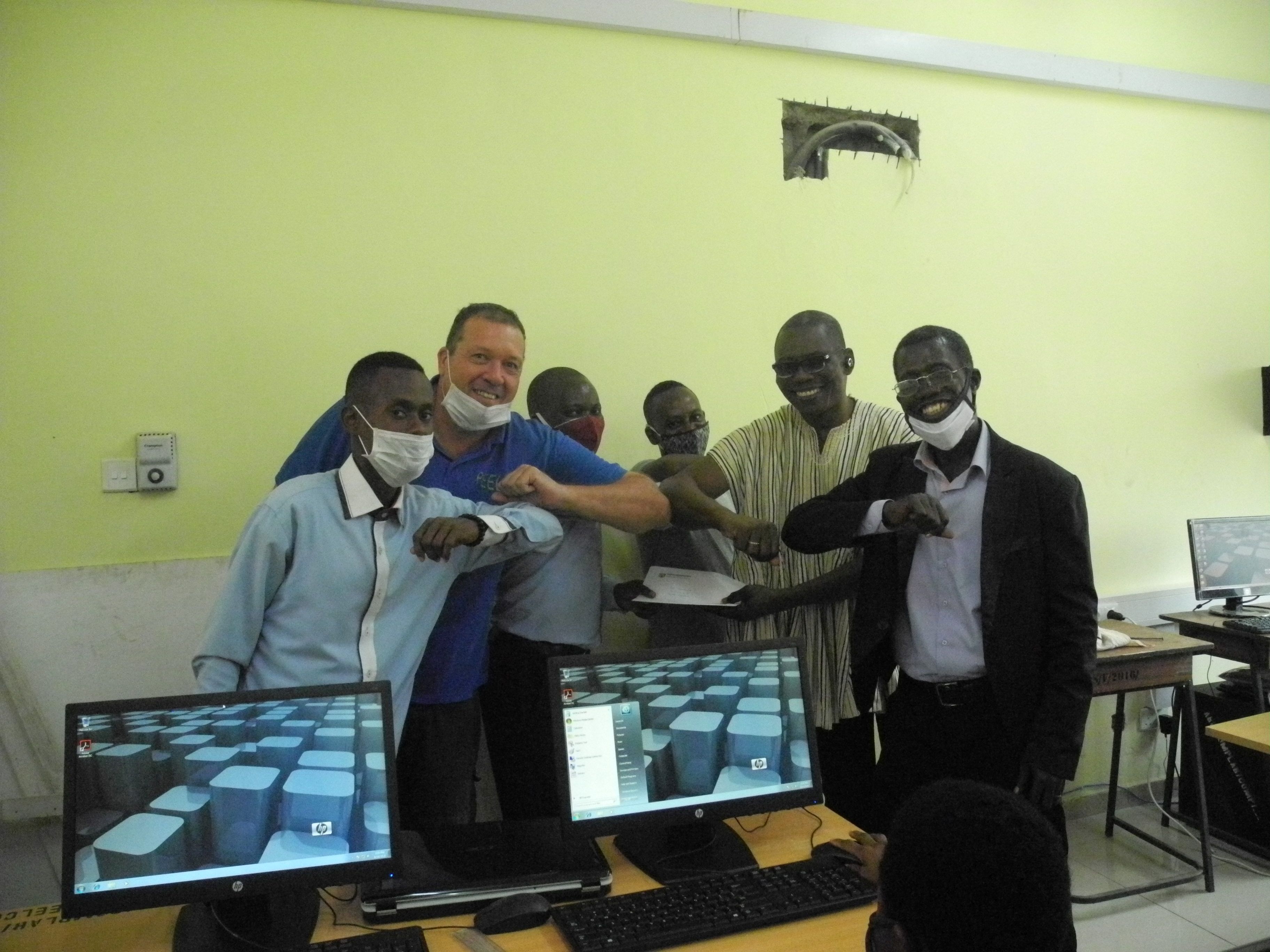 Pic 5: Group photo in front of the computer lab from left, then below:
VIctus Awudi (Accountant Peelco Ltd), Abednego Darko (Admin Assisstant Peelco Ltd), Frank Oberschilp (General Manager Peelco), Nicholas Webaduah Adoebi (Headmaster SHS Bawjiase), Francis Anobil (Assistant Headmanster SHS Bawjiase), Seth Telby (Assistant IT Teacher), Dunston Stilo (Assistant IT Teacher), Kwame Amoah (Maintenance Repair and Installation Unit Peelco), Frederick Nyarko (IT Teacher)
Translated with www.DeepL.com/Translator (free version)