Expanding our receiving department and export ramp
9. December 2017
After many years of working together with good, experienced exporting contractors, we eventually had to arrive at the conclusion that, yes – fruit are indeed a product of nature: every now and then, they will ripen a little sooner or a little later. That means they can't always be delivered exactly on time. It is perfectly possible to have one of our contractors arrive a day late or even hand over his produce earlier than we expected.
Long story short: in order to even out the bumps in our delivery schedule, we need … space!
We expanded both our receiving department and our export ramp as well – because our exporting capacity is on the rise, too. The department currently serving for processing arriving fruit gets transformed into a general purpose warehouse. The new receiving zone will be transferred to a 500m² area – the same area our new warehouse resides in, too.
We begin construction with a wall, reaching 1.40 metres in height.
The next challenge was filling up those 500m² of open space with more than 630m³ of laterite. Where to get that? Not a problem for someone owning 18 hectares of land! In about three days, the entire area was filled with gravel from the other end of the compound. Another big advantage of using our own material: the part having donated the gravel now is perfectly plane – a great foundation for a later use in our business, should we need some additional buildings in the future.
While we managed to do all the work until this point by ourselves, the concrete foundation for our new department warehouse required the skills of an expert. After all, the building has to fulfil all statics requirements, not to mention our needs for dynamic work in the warehouse. The hurricanes during monsoon season are a particularly big challenge our building needs to best! Fortunately, our German friend and construction engineer, Raphael, is just the right man for the job.
Now to the 'concrete' challenge at hand:
For a warehouse of our size, the only real option is a pre-mix concrete ready for use. The mix is produced in a concrete factory resembling this picture: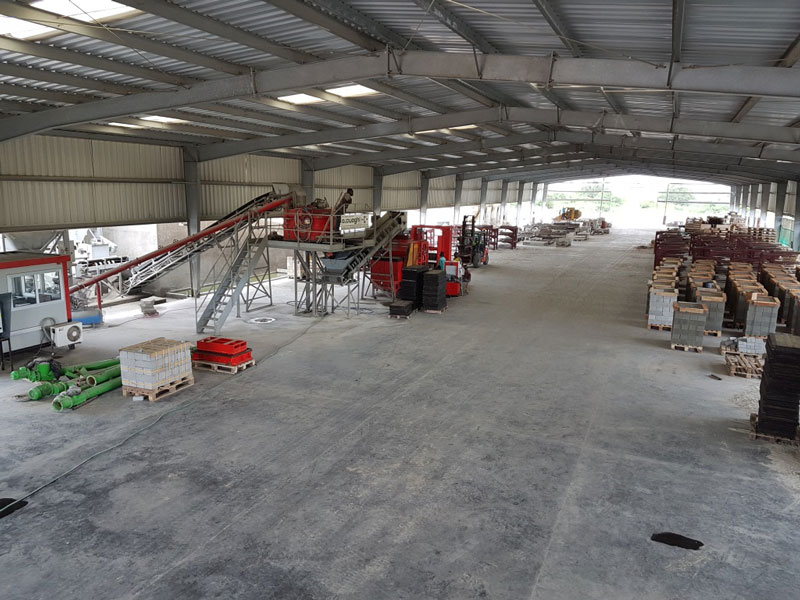 Or at least that is the German idea of how pre-mix concrete is manufactured. As you can see down below, our manager (Frank) and our chief of production (Achea) learned that there are different ways to get that mix:
Photo: pre-mix concrete made the DIY way by a road construction company.

The way this 'system' (we'd rather not call it a factory) works is: a concrete mixer truck drives down beneath the wooden funnel and waits for an excavator to fill it up with gravel, sand and cement. Just how are they supposed to hit the perfect distribution of material like that, making for actually useful concrete?!
Well, it isn't easy, but it is possible:
Measure up the excavator's bucket and recalculate that in cubic metres.
Place one of our employees right next to the whole get-up to control the material distribution and (important): count up the bags of cement used.
The water is only added once the mix arrives at our company, and is only added while Raphael, our construction engineer, has a watchful eye on the entire process.
After three days, this 'local' mixing system finally produced our concrete base plate. And despite the unusual way of going about it, the result is really top notch!
Now let's get to being a bit more 'western' again: solid steel warehouse frame from Egypt, freezer compartment and floor tiles from Germany. These kind of products are always welcome, considering their high quality standards. Unfortunately, due to pricing pressure in Europe's industrial markets, none of the goods we need are readily in stock – everything needs to be produced specifically for us. Fortunately, we saw that coming, and custom-ordered our warehouse ages ago. It has been with us for two months now, getting an additional covering of rust protection paint. Unfortunately, there is one thing we can't produce ourselves: the right weather for building the whole thing up! The monsoon season just doesn't seem to want to end this year. But in order to operate the crane necessary for building up our warehouse and to keep both our material and our workers safe, we need to make sure there will be no heavy rain. Well then, we'll wait – after all, the floor tiles need one month to be shipped to Ghana; the freezer compartment even needs three months to arrive.
At the start of December, we finally got bored and wanted something to do – so let's get going! The car-mounted crane from Accra was right on time, 8:00 AM. With only eight hours of work time booked, one of the most important decisions is the placement of the crane. Setting it down takes time – so resetting it means you lose some of your valuable eight hours. Let's go:
After a relaxing weekend, the roof panels were attached, too.
We only have a little bit of time left until the freezer compartment arrives from Germany, so we will make the best of it: we are applying the floor tiles, constructing an office for handling all the goods arriving with us and for installing a mid-roof made of concrete. But that is a story for another entry.